0203 816 0985
Let's talk. We're open Mon-Fri 9am - 6pm
We're open Mon-Fri 9am - 6pm

From the car chases and the villains to the Bond girls and the gadgets, James Bond is synonymous worldwide with great British cinema… however at WB we also like to believe that Ian Fleming's famous secret agent is also the original jetsetter. Fictional character 007 may be an international intelligence officer, but he is also a globetrotter and the 26 blockbuster movies are proof of this. From Europe to South America, bustling cities to rainforests, James Bond's passport has certainly been through years of abuse – we're not even going to attempt to work out the airmiles he must have racked up! Fancy following in the footsteps of one of London's greatest fictional gentlemen? (we apologise Sherlock fans). With Winged Boots, you can visit plenty of the iconic destinations from the franchise's film catalogue and even stay in some of the same hotels. Just give our personal travel managers a call on 0203 816 0985 and let them devise your mission…
Phang Nga Bay, Thailand
Phang Nga Bay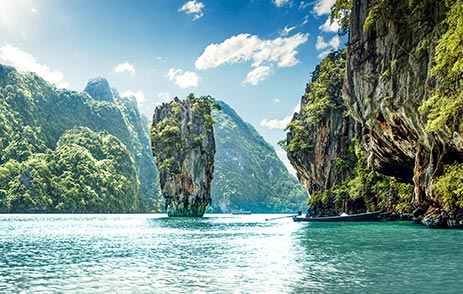 Keemala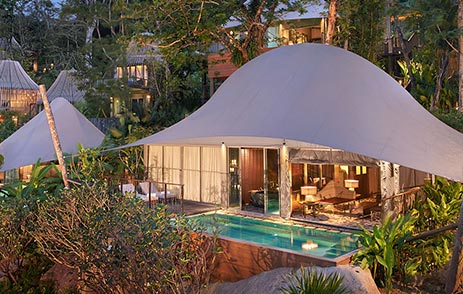 Made famous in
Man With The Golden Gun
(1974) starring Roger Moore as 007, Phang Nga Bay is one of Phuket's most popular day tours for visitors. In the film, James Bond is seen flying a seaplane to Scaramanga's island hideaway – Phang Nga Bay – where he is forced into a tense duel with Scaramanga who is aided by his diminutive assistant Nick Nack. Known locally as 'James Bond Island' the area consists of numerous dramatic limestone cliffs that stand proud above sea level. One for the Instagram feed, the bay personifies a typical Thai landscape and is one of the most advertised tours in Phuket. Multiple excursions are available including private tours by longtail boat with a local guide or group experiences that combine other nearby attractions including cave tours, visits to the floating fishing village and canoeing through the mangrove forests nearby.
WHERE TO STAY:
If you'd like to see this iconic piece of James Bond cinema in the flesh, we recommend you stay in one of Thailand's most popular resorts, Phuket. Here you're spoilt for choice when it comes to luxury hotels. From staying in a treehouse in the middle of the jungle at Keemala to residing on a private island at The Naka Island, A Luxury Collection Resort & Spa, variety is certainly on the cards here.
Click here to view our extensive collection of Phuket hotels
and
click here to read our exclusive review of Kata Rocks.
Furka Pass, Switzerland
The Furka Pass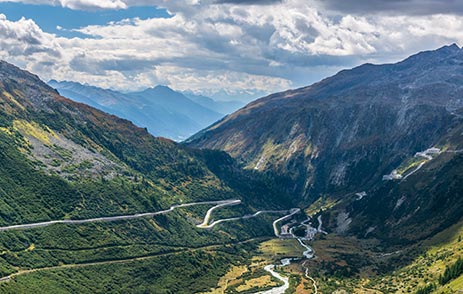 The Chedi Andermatt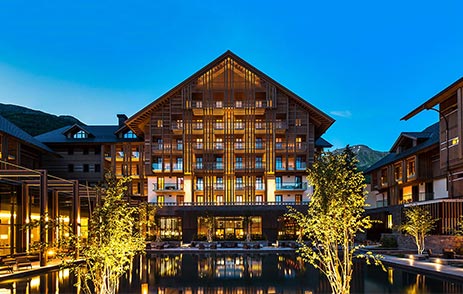 Remember the famous car chase scene in
Goldfinger
(1964)where Bond, in an Aston DB5, gets caught in a cat-and-mouse driving challenge with Tilly Masterson who's driving a Ford Mustang? The Furka Pass in Switzerland has been immortalised through this scene and is now one of the most iconic driving routes in the Swiss Alps. As one of the highest mountain roads of the Alps – boasting an elevation of 7,969 ft – a drive along the Furka Pass offers unparalleled views of the valley below. Connecting the hamlet of Gletsch to the municipality of Realp, this is the ideal road trip for all motor heads that fancy some lights, camera and action with their drive. Don't fancy the steep drive? You can still enjoy this glorious road and its beautiful landscape by steam train, another experience in itself.
WHERE TO STAY:
Just half an hours' drive from the Furka Pass is The Chedi Andermatt which offers a stunning valley setting, an impressive design and incredible facilities. Here you're spoilt for choice when it comes to accommodation and gourmet options – there's seven food and beverage establishments! Oh, and an ice rink, a serene spa, top-notch salon and a state-of-the-art health club. What more could you possibly need? Perhaps a nearby golf course? Well, you're in luck as Andermatt Swiss Alps Golf Course is just a five-minute drive away.
Click here to discover more on The Chedi Andermatt and our other Switzerland hotels.
Sugarloaf Mountain, Rio de Janeiro, Brazil
Sugarloaf Mountain Cable Car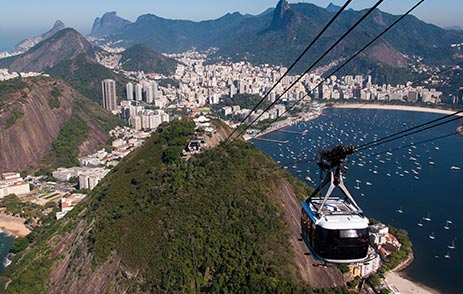 Hotel Fasano Rio de Janeiro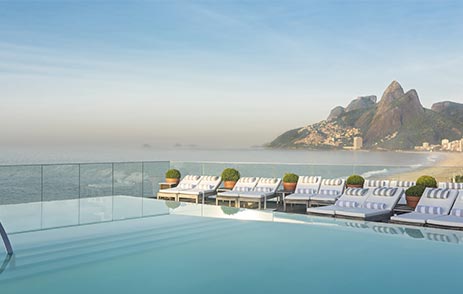 Since its opening in 1912, the
Sugarloaf Mountain
cable car in Rio de Janeiro has received more than 37 million visitors… and we bet that post-1979, a large percentage of its riders were James Bond fans. Why? Because this is where the famous cable car scene in
Moonraker
(1979), between Bond (Roger Moore) and metal-mouthed villain Jaws, takes place. Connecting Praia Vermelha (Red Beach) with UNESCO World Heritage Site Sugarloaf Mountain, the cable car ride to the summit offers uninterrupted 360-degree views of the bay and famed city of Rio. It's one of Brazil's top tourist destinations, located at the mouth of Guanabara Bay and rises 396-metres above the harbour. The reason for the name? Blocks of sugar were shipped from here worldwide during the 16th-century and the name stuck. All-in-all it's a real sight for sore eyes, and is one that no 007-fan wants tp miss out on.
WHERE TO STAY:
Rio is home to a variety of five-star hotels that offer excellent rooftop bars, inviting infinity pools, private beaches, stunning views, calming spas and other enticing facilities that'll make you never want to leave. Hotel Fasano Rio de Janeiro is the A-list's stay of choice, narrowly stealing the crown from Belmond Copacabana Palace – Rio's most famed hotel which has been reigning supreme in Copacabana for almost a century. Rio de Janeiro has attracted a range of worldwide hotel brands including Hilton, Grand Hyatt, Sheraton, and of course
Belmond
as well as a plethora of individual and boutique hotels that are sure to rank highly in your holiday hall of fame.
To discover more on our Rio de Janeiro accommodation options, call our expert team of personal travel managers on 0203 816 0985
.
Jamaica
GoldenEye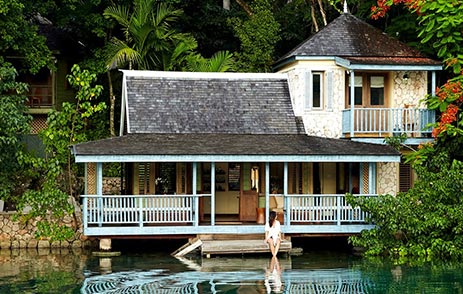 GoldenEye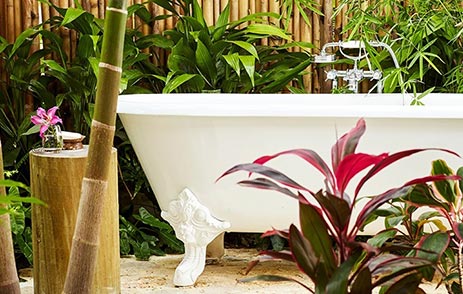 The island that defines James Bond, and his creator Ian Fleming, (who famously visited the Caribbean isle to write many of the original spy novels in his Goldeneye home - which is now a popular hotel) Jamaica is a big part of the franchise. The main setting for three of the original novels, and earlier films,
Dr No
(1962),
Live and Let Die
(1973) and
The Man With The Golden Gun
(1974) Jamaica and Bond go hand in hand. The North Coast especially is peppered with landmarks from the 007 novels including possibly one of the most famed Bond scenes to date. Just 20-minutes boat ride from Goldeneye you'll find Laughing Waters beach which was where Ursula Andress (Honey Ryder), the original Bond girl, emerged from the waters in the very first Bond movie,
Dr No
(1962). Not far from here is
Dunn's River Falls
, the spot where Connery and Andress enjoyed a waterfall swim in the same film – something that hundreds of tourists have enjoyed every day since.

WHERE TO STAY:
Fleming's tie with Jamaica has been immortalised with his home GoldenEye being converted into a five-star hotel. Comprising one, two and three-bedroom villas, cottages and beach huts the private accommodation options offer unparalleled views of the Caribbean Sea and stunning Jamaican landscape while providing a secluded oasis for guests to kick-back and relax in utter privacy.
To discover more about GoldenEye, click here.
Scotland
Eilean Donan Castle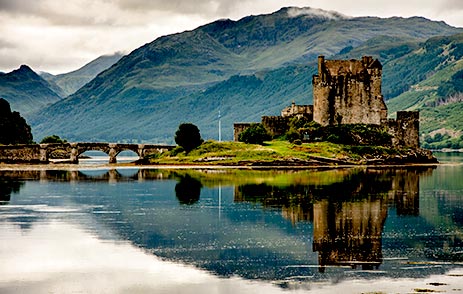 The Gleneagles Hotel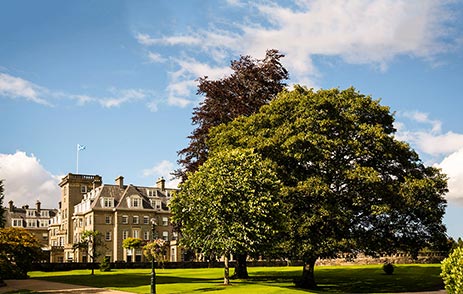 One of the more recent 007 cinema blockbusters,
Skyfall
(2012) sees Bond return to his family estate in Glencoe, a village in the Scottish Highlands. It is rumoured that Fleming gave Bond a Scottish heritage after he was apparently so impressed with Sean Connery's portrayal of 007 in
Dr No
. Since, James Bond's link to Scotland has been cemented with multiple scenes set in the picturesque country. Plus, Bond is also said to have gone to his father's school
Fettes College in Edinburgh
after a brief spell at
Eton College
. Another strong link between Bond and Scotland is in
The World Is Not Enough
(1999) where the 13th-century
Eilean Donan Castle
was used as the MI6 headquarters. It was here that Q famously presented an array of gadgets to Bond including bagpipes that doubled as a machine gun.
WHERE TO STAY:
For an authentic Scottish hotel, look no further than
The Gleneagles Hotel.
Boasting three championship golf courses, an award-winning spa, and the only restaurant in Scotland to have two Michelin stars under its belt, you're in for a deluxe stay here. Family friendly and in the heart of the Scottish countryside, whether you choose a cosy winter escape or a bright and cheerful summer break, The Gleneagles Hotel is sure to deliver. However, with so many ties to Scotland's Highlands, the best way to see all of the areas featured in James Bond's cinema catalogue is to give one of our personal travel managers a call today to organise a bespoke road trip.
To submit an enquiry, please click here.
Piz Gloria Revolving Restaurant, Switzerland
Piz Gloria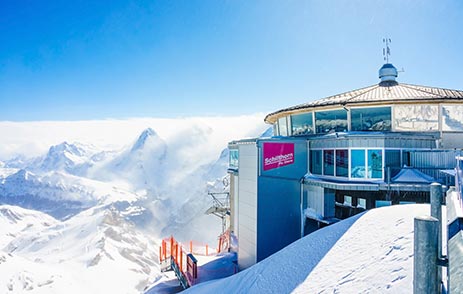 Mürren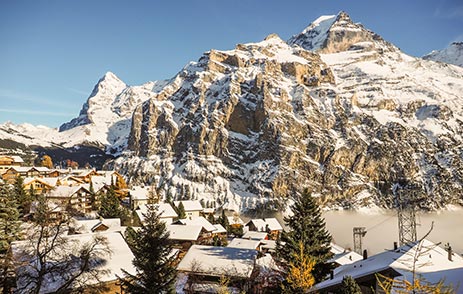 Perhaps one of the most unique villain lairs from the franchise,
Piz Gloria
, located atop the Bernese Alps in Schlitthorn, Switzerland provided the ideal base for criminal mastermind Ernst Stavro Blofeld. In
On Her Majesty's Secret Service
(1969), the now revolving restaurant posed as Blofeld's clinical research institute until Bond famously destroyed the entire operation. In reality, however, the location – which is perched 2,970 metres above Mürren – was funded by the Bond production on the condition that it would be exclusively used as a set for the 1969 cinema classic. After its release, the location opened as Piz Gloria Revolving Restaurant and certainly cashed in on its Bond fame.
Now operating as a restaurant it's ideal for those after unparalleled views across Switzerland, and of course for fans of the Bond franchise. What's more the dining destination completes a 360° rotation every 55-minutes and is also home to a museum of all things 007 named 'Bond World'. Couple this with the dramatic snow-capped views and the family-friendly menu and we can't think of any reason why you wouldn't want to visit this fine piece of Bond history.
To organise your trip to Switzerland, call our team of expert personal travel managers on 0203 8160895 or click here to view our Swiss hotels.
Himeji Castle, Japan
Himeji Castle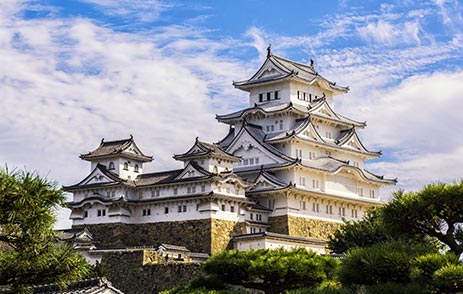 Ryogoku Kokugikan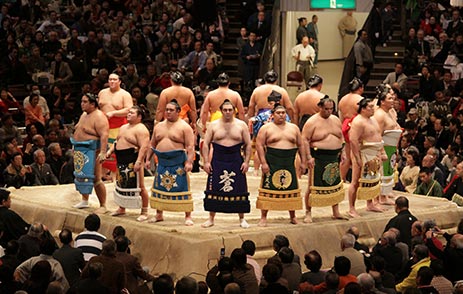 UNESCO World Heritage site
Himeji Castle
is a popular tourist destination for both international and domestic visitors, however a great proportion of these guests will fondly know the landmark as Tiger Tanaka's ninja training school in
You Only Live Twice
(1967). Played by Connery, Bond flies to the 'White Heron Castle' by helicopter to see Tanaka, where he trains to become a ninja in order to infiltrate SPECTRE's island.

WHERE TO STAY:
Similar to Scotland, Japan has other links to Bond including the filming location of Kyushu's island lair in
Skyfall
(2012) which is just off the coast of Nagasaki. Or head to Tokyo where you can also visit the
National Sumo Stadium Ryogoku Kokugikan
and the fictional Osato Chemicals and Engineering headquarters which is in fact the New Otaki Hotel, both of which also featured in
You Only Live Twice
. Therefore, it is advised that when visiting Japan, you make the most of your trip and travel around the country.
To organise your Japanese getaway, call one of our expert travel managers on 0203 8160985 or click here to view some of our recommended hotels.
Other popular parts of the world which feature heavily in the James Bond filmography franchise include Istanbul, Venice, The Bahamas and of course London. From the magnificent Ice Hotel located in Sweden and featured in
Die Another Day
(2002) to Lake Como as seen in
Casino Royale
(2006) if you want to travel the world like the fictional British Secret Service agent, Winged Boots has the tools to ensure your mission goes without a hitch. To discover more on our worldwide hotels, call our expert team of personal travel managers today on 0203 816 0985.
Share with someone you'd love to travel with

Lauren Godfrey
Lauren Godfrey is a Marketing Manager