0203 816 0985
Let's talk. We're open Mon-Sun 9am - 6pm
We're open Mon-Sun 9am - 6pm
February Half Term 2021 Luxury Holiday Ideas
Our favourite half term of the year… and no, that's not because it's the first. Ok, who are we kidding, we love having something to look forward to after the rush of Christmas and then the blues of January. It's exactly what you need in your travel calendar, a nice week-long break six weeks into a New Year, knowing that it's only another couple of months until Easter. And, with the current travel climate due to the Covid-19 pandemic, it's nice to book something for early 2021, to make up for any travel plans that may have been cancelled in 2020.

But where's best to visit at this extremely great time to travel? The world is an open book over February half term, so it all depends on your family's wants and needs. So whether you're looking for a destination with a short flight time, somewhere that'll enrich your children's cultural knowledge or a beach location where the teens can fly and flop while you get lost in a good book… our personal travel managers can tailor-make that perfect holiday, so all you have to do is pack your suitcase and count down the days until departure.

DUBAI, UAE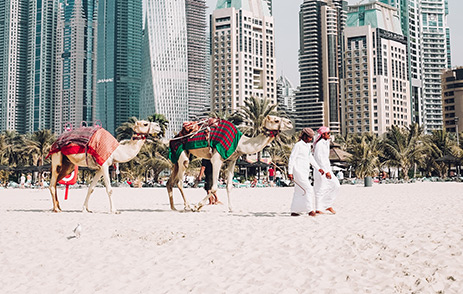 This
sparkling emirate
that boasts culinary excellence, pristine beaches and five-star customer service in equal measures certainly needs no introduction. Little ones will be entertained for hours at the professional kids' clubs available at most hotels, while older children and teens are sure to enjoy splashing in the seemingly endless infinity pools or riding the waves of the Persian Gulf with motorised water sports. Every taste bud is acknowledged and catered for here, and each dish is accompanied by a side order of stunning views. As for things to do, you're only limited by your imagination. Skydiving over The Palm; scuba diving in an aquarium filled with tropical marine life including sharks; soaking up the views from the world's tallest building; shopping until you drop, or your card gets declined… it's all possible here.
Atlantis, The Palm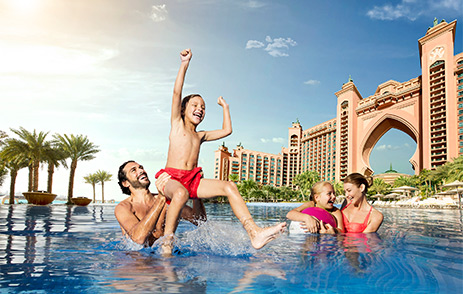 Where to stay:
For the ultimate family stay, we recommend
Atlantis, The Palm
. Complete with a waterpark, dolphin experience and a bowling alley – plus so much more – child-friendly experiences are at the heart of this entertainment resort.
Wow your kids:
Head to the desert and take your children sand surfing followed by camel trekking and then on a thrilling 4x4 dune bashing ride before ending the day with a delicious barbeque feast under the stars. Some experiences include camping in a traditional Bedouin tent, too.
Getting here:
7 hours direct from London
ALGARVE, PORTUGAL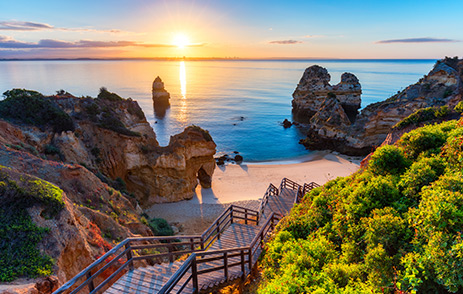 Significantly closer to home, the soaring cliffs, inviting beaches and enchanting sea caves of the
Algarve on Portugal's
beautiful coast are always a winning combination for a February half term getaway. The weather is bright, warm and ideal for long strolls along the beach or days spent perfecting your swing on the fairways. The temperature does drop of an evening, so be sure to bring layers if you're planning on dining alfresco – it would be a crime not to enjoy fresh sardines overlooking the ocean.
Conrad Algarve
Where to stay:
Boasting stellar service and an excellent location,
Conrad Algarve
ticks all our travel boxes. Just 20-minutes from Faro Airport, this hotel is perfect for long weekends however there is plenty of things to do to occupy you for the entire week.
Wow your kids:
There are numerous waterparks in the Algarve which small and big kids, yes we're looking at you Dad, are sure to enjoy!
Getting here:
2 hours, 40 minutes from London
MALDIVES, INDIAN OCEAN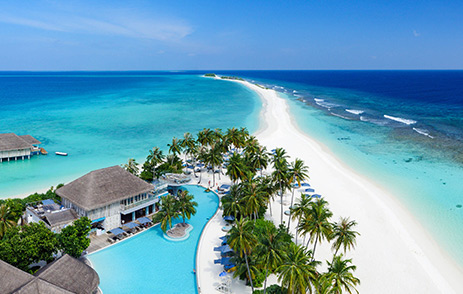 A collection of unique gems scattered across the Indian Ocean; the
Maldives
is one of the crowning jewels of our wonderful world. Swaying palm trees, sun-drenched private islands, turquoise waves lapping ribbons of silky soft sand… it's a scene straight out of a postcard. No two islands are the same in this archipelago. But natural beauty aside, the resorts are equally as stunning. Think overwater villas with private pools and slides that splash into the ocean. Tranquil spas that overlook the inviting beaches or are up in the treetops. Oh, and delicious restaurants that serve almost every type of cuisine from barbeque through to catch of the day. Throw into the mix exciting kids clubs, underwater suites, unbelievable water sport and diving opportunities… what more could you need from a family holiday?
Finolhu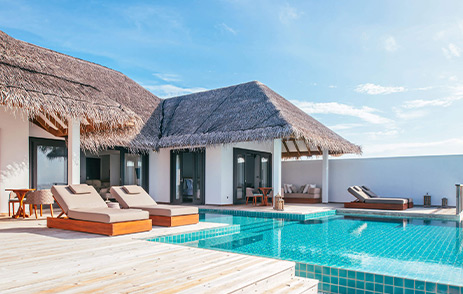 Where to stay:
You truly are spoiled for choice in the Maldives however one of our favourite hotels that's taking centre stage at the moment is
Finolhu
. A celeb-favourite, your Instagram-obsessed teens are sure to swoon while fun-loving parents can take advantage of the professional babysitting services and enjoy a night at the 1OAK nightclub.
Wow your kids:
The Maldives is a great destination to educate your children on the environment and sustainability. The majority of isles are plastic-free, grow their own fruit and vegetables and ensure that structures are used from recycled materials.
Getting here:
10 hours direct from London
REYKJAVÍC, ICELAND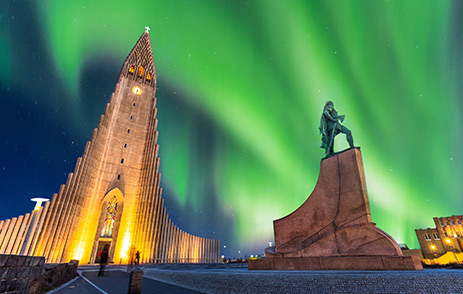 Slightly different from the sun destinations listed so far, however you shouldn't overlook a wintery escape to the Arctic.
Iceland
is a popular option and boasts multiple excursions and day trips to ensure your stay is action packed. From soaking up the rich minerals at Blue Lagoon through to husky sledding across the endless snowy landscape or turning the speed up a notch with a race on a snowmobile. Adventurous children are bound to love this part of the world that's filled with activities they're sure to remember for a lifetime, like ice fishing for dinner. Plus, they'll have a great story to go back to their classmates with – especially if you're lucky enough to hunt down the illusive Northern Lights during your stay.
The Retreat at Blue Lagoon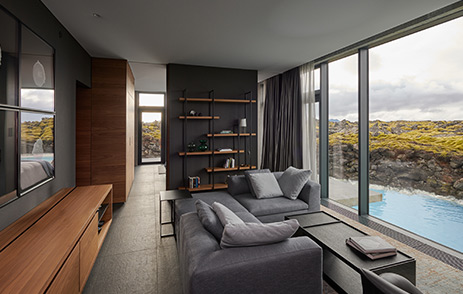 Where to stay: The Retreat at The Blue Lagoon
is a great base for families with children over two-years old. Please note children must be accompanied by an adult when using the facilities and those under eight-years-old must wear armbands when in the Blue Lagoon.
Wow your kids:
You have to embark on a Golden Circle Tour that includes a visit to the erupting Geysir and Strokkur hot springs, the double-tiered falls of Gullfoss waterfall and the beautiful Thingvellir National Park.
Getting here:
3 hours from London
TENERIFE, SPAIN
Possibly the most well-known and popular of the canary islands,
Tenerife
is certainly a favourite with us Brits and it's a top holiday spot for February 2021 Half Term. Combining white sandy beaches with a selection of deluxe resorts, this Spanish isle is ideal for those fly and flop stays. Expect warm weather in February, especially in the south of the island such as Costa Adeje, Los Cristianos and Puerto de la Cruz. However, to satisfy your inner culture vulture, venture to the northern side of Tenerife for a wider selection of family-run restaurants and dramatic scenery.
Bahia del Duque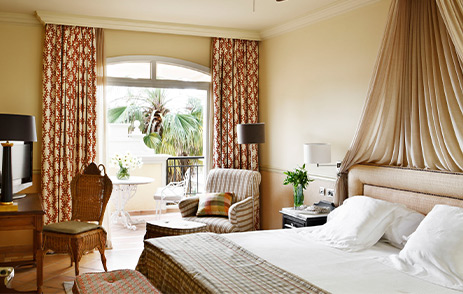 Where to stay:
Located just 20-minutes from Tenerife South and 60-minutes from Tenerife North Airports,
Bahía del Duque
is on perhaps one of the most prestigious areas of the island. A pioneer of luxury tourism, here you have eight restaurants to choose from, a tranquil spa to unwind in and never-ending views of the Atlantic Ocean and it's sandy shore.
Wow your kids:
Do you fancy a little adventure? Then how about a cable car ride to the top of active volcano, Mount Tiede? That's sure to give little explorers a story to report back to their class just in time for the second half of term.
Getting here
: 4 hours from London
PHUKET, THAILAND
Gorgeous beaches, fantastic weather and the friendliest locals – Thailand is another top choice for a February Half Term getaway and
Phuket
is perhaps the most popular region for holidaying British families. It is a long journey, so perhaps reserve this trip for older children, but know that toddlers are still well catered for here. Phuket is a great jumping off point for other areas of Thailand and provides the ideal base for multiple day trips to neighbouring islands. The Phi Phi islands can be reached in just two-hours by ferry while the two Koh Yao isles are just 25-minutes away via long tail boat.
Kata Rocks
Where to stay:
Uber modern, tick, Exceptional customer service, tick. All suite accommodation with private infinity pools, tick tick.
Kata Rocks
is a great base for exploring Phuket with all the bells and whistles you'd expect for a five-star family stay. No luxury stone has been left unturned at this resort.
Wow your kids:
Let your children get up close and personal with the area's friendly giants at an elephant sanctuary. Here the entire family can wash, feed and bathe with these majestic animals all while being educated on the conservation of elephants in the wild.

Getting here:
16 hours from London, including one stop
Have we inspired you to book your February 2021 Half Term holiday? Give our expert team a call today to discuss your travel plans and receive a FREE holiday quote on 0203 816 0985.
Alternatively, click here to submit an online enquiry or click here to view our limited-edition special offers.
Share with someone you'd love to travel with

Lauren Godfrey
Lauren Godfrey is a Marketing Manager