0203 816 0985
Let's talk. We're open Mon-Sun 9am - 6pm
We're open Mon-Sun 9am - 6pm
Safari & Sands Adventure
Johannesburg , Kruger National Park & Zanzibar
10 nights
from £8,099 pp inc flights
Safari & Sands Adventure
Johannesburg , Kruger National Park & Zanzibar
10 nights
from £8,099 pp inc flights
A luxury retreat that's sure to meet all your needs, this African road trip encompasses cityscapes, safaris and sand in a dazzling mix that will leave you wanting more. Johannesburg is the first stop on route, where you'll wine, dine and be sent to cloud nine for two nights at Four Seasons Hotel the Westcliff. The ideal balance between natural beauty and contemporary urban design, this city will thrill all parties with its list of things to do – or not to do – the choice is yours. On the third day, you'll find yourself on the road for a safari adventure in Greater Kruger National Park. Based in the luxurious Royal Malewane accommodations, you'll become a regular Crocodile Dundee after three days of walkabouts in the bushveld, getting to know the local flora and fauna. After watching lions on the hunt, hippos performing their underwater ballet and monkeys make off with your unguarded snacks, you'll be sorry to re-emerge in the real world. But not for long! The Residence, Zanzibar opens its arms with a warm welcome to receive you for the final five-nights of your stay. Here, you can expect white-sand beaches and picture -perfect palm trees as well as 80-acres of private tropical gardens.
See the bright lights of the big city with a two-night stay in Johannesburg
Experience luxury accommodation in the African wilderness
Chill-out on the golden sands of Zanzibar's best beaches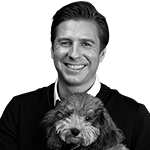 Get in touch with our team of travel experts to start planning your trip
What's included:
International flights
10 Nights accommodation
2 x Breakfast
3 x Full Board
5 x Half Board
Rental car
Itinerary
Day 1-4 Johannesburg
Reopened in 2014, this luxurious city resort is set in lush hillside gardens that also encompass two heated swimming pools and an all-weather tennis court. Thanks to its vantage point on the hills, the Four Seasons Hotel provides stunning panoramic views of the city and surrounding landscape.

A choice of restaurants and fitness facilities make this contemporary African space a hive of sociable hubbub that is perfect for an active retreat. Remaining close to the city as well as the nearby zoo, this stunning accommodation is the ideal base for explorations into Johannesburg.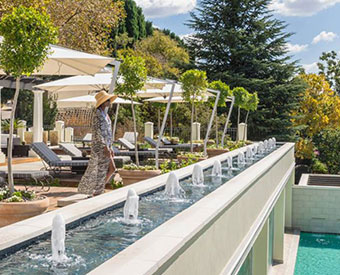 Property
177 guestrooms many of which include a terrace or balcony that offer breath-taking views 
First class amenities such as an on-site spa, all within convenient distance of your room  
On-site restaurants providing the most avant-garde cuisine in Johannesburg
Best for: Business, City, Couples
Style: Contemporary
Best for: Business, City, Couples
Day 4-7 Safari Lodge
Splendour, style and bygone era charm come together to create a truly amazing experience at the Royal Malewane in Greater Kruger National Park. Set in the private reserve of Thornybush on the Western border of Kruger, this luxurious dwelling in the middle of the African wilderness is sure to fulfil your wildest safari dreams.

Despite its old-world appeal, the accommodations at Royal Malewane is packed with mod cons and contemporary facilities, seamlessly blending the old with the new for a signature experience. With facilities such as private pools, an on-site spa and exclusive game drives, we promise that this accommodation will leave you wanting for nothing.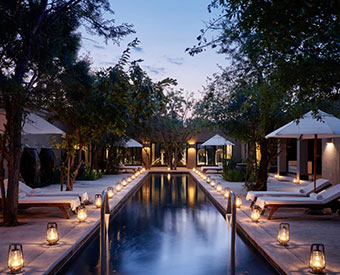 Property
Number of Nights : 3
Room Type : Luxury Suite
Board Basis : Full Board
Hotel Rating :
Indulge in the blissful experience of the on-site safari spa and gym
Stroll through the wide-open plains of Africa and spot the Big Five guided by an expert ranger
Enjoy sumptuous dining with the lodge's Chaîne des Rôtisseurs approved cuisine
Best for: Business, Couples, Family
Style: Safari Lodge
Best for: Business, Couples, Family
Day 7-12 Zanzibar
Nestled within 80 acres of stunning island gardens, The Residence has a definite heir of seclusion despite it being less than an hour's drive from the airport.

Two restaurants can be found within the grounds, both offering international cuisine fused with African touches giving a unique experience to every diner. Once finished, take a stroll through the gardens stumbling across the petting zoo on the way, enjoy watersports found on the nearby beaches or take some time out relaxing in the spa. The choice is yours.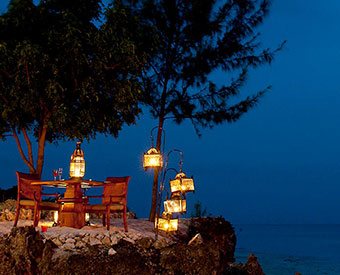 Property
Number of Nights : 5
Room Type : Luxury Ocean Front Poo...
Board Basis : Half Board
Hotel Rating :
Private villas ideal for couples and families 
Nestled within 80 acres of tropical gardens with fabulous on-site dining options 
Close to amazing watersports for the whole family
Best for: Beach, Couples, Family
Style: Traditional
Number of Nights :5
Room Type : Luxury Ocean Front Pool Villa
Board Basis : Half Board
Hotel Rating :
Best for: Beach, Couples, Family
Share with someone you'd love to travel with
But that's not all… Each itinerary is considered a starting block which we can tweak and customise to suit your specific needs. Want to discuss our bespoke options?