0203 816 0985
Let's talk. We're open Mon-Sun 9am - 6pm
We're open Mon-Sun 9am - 6pm
Treehotel
3 nights for
£750 PP

inc flights
5 nights for
£1,210 PP

inc flights
7 nights for
£1,670 PP

inc flights
*Price based on
2 people sharing
Treehotel
Luleà, Sweden
3 nights for
£750 PP

inc flights
5 nights for
£1,210 PP

inc flights
7 nights for
£1,670 PP

inc flights
*Price based on
2 people sharing
Let Treehotel transport you to a world of dynamic architecture and wondrous natural phenomena, all within the peaceful confines of towering pine trees. Adventurers and relaxers retreat here in harmony, where unique accommodation is your haven of warmth and the surrounding landscape is your playground.
Imagine a hotel where designers were let loose and Treehotel is what will appear, with everything from UFO-shaped cabins levitating in the trees, to mirrored walls camouflaging the cube walls into a piece of art. You cannot forget about the spectacle that is the Northern Lights, visiting the silent forest to put on an unforgettable show.
Innovative accommodation includes UFO-shaped treehouses and mirrored walls
Natural surroundings are the perfect canvas for kayaking, hiking and more
Indulge in Swedish delicacies at The Restaurant
Get in touch with our team of travel experts to start planning your trip
Best for: Adventure, Sustainable
Style: Contemporary
DETAILS:
Best for: Adventure, Sustainable
Style: Contemporary
Currency: SEK
Board Basis: Bed & Breakfast, Room Only
Best Time To Travel
Average Temperatures
| | | | | | |
| --- | --- | --- | --- | --- | --- |
| Jan: -3°c | | Feb: -3°c | | Mar: N/A | |
| Apr: 5°c | | May: 11°c | | Jun: 16°c | |
| Jul: 18°c | | Aug: 17°c | | Sep: 12°c | |
| Oct: 8°c | | Nov: 3°c | | Dec: -1°c | |
Our Expert View:
"Wellness with a difference comes in the form of ice yoga, where you'll practise your best downward dog at the frozen river. Melt away afterwards in the sauna for some meditation to prepare for a snow bath for intense relaxation"

Charley, Personal Travel Executive
Amenities:
Spa
Restaurants
Jacuzzi
Excursions and Tours
Yoga Classes Available
In Room Dining
ACCOMMODATION
Rooms are not just rooms here, they're pieces of art suspended four to six metres above the ground, floating in the treetops, boasting spectacular views of the Lule River. Seven different shaped hideouts all have a reason to make it onto your social media feed, some at the edge of the forest skimming the snow resting on the leaves and others camouflaged with mirrored walls or life-size pictures of the surrounding nature. Comfort is never compromised with underfloor heating in all treehouses.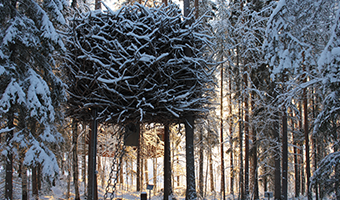 Bird's Nest
Designed to reflect the contrasts between the outside and the inside, imagine a cluster of giant twigs encasing modern interiors and crisp white sheets and the Bird's Nest is just that. Climb up the retractable staircase and feel like a child again, only this time with complimentary WiFi, two bedrooms and a separate living area.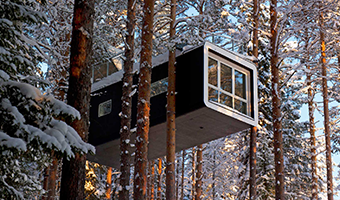 The Cabin
Commanding some of the most breath-taking views of the Lule River valley from its position up a sharp hillside, walk across the bridge weaving in and out of the trees and be met by The Cabin. Suspended as a burst of modern design in the forest, this unique capsule from the outside world houses a double bed, toilets and a rooftop terrace.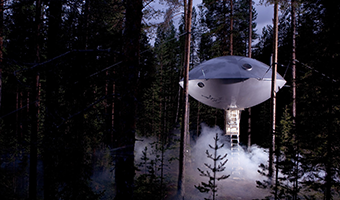 The UFO
Completely contrasting to the other offerings, The UFO is meant to completely stand out. Crafted with sustainable materials, travel to comfort that's out of this world with rooms for a family themed around constellation and space. One double bed and three separate beds make for a perfect night's sleep after a day out in the wilderness.
Share with someone you'd love to travel with
DINING
Emulating the same ethos as the hotel design, The Restaurant and its menu will have you feeling at one with Swedish nature. Offering local delicacies like wild game with the finest hand-picked berries, produce is simple, and dishes are seasonal made with intense creativity. Timeless décor reminiscent of the 1930's and 1950's adorns the walls and service is impeccable, with every pick of the menu executed with finesse. Be woken with the mouth-watering smell of freshly baked bread, devour delicate reindeer meat, and for an extra special gastronomy experience, complete your day with a candlelit dinner under the stars on a frozen lake, or suspended 10-metres high in the trees.
LEISURE
With each season comes a change in natural surroundings, and whether the ice has crystallised over the lakes or the snow has melted to reveal the carpet of vibrant green grass underneath, there are a wealth of activities on offer. Hiking through the steep cliffs or forestland with an experienced guide from the hotel, white water raft over the rapids of the Rane river or explore the Taiga Forest by a bike specially designed to roll over the white powder snow. Of course, the Northern Lights cannot be missed, and with clear weather on your side, take tips from a photography expert on how to capture this incredible show of dancing strikes of light. Of course, the classic Lapland activities like dog sledding, snowmobiling and ice fishing are available to treat your inner thrill-seeker.
Can't spot your favourite destination or hotel? Never fear – this is just a selection of what we can do!
Description
The idea of Treehotel stemmed from the creative minds of Kent and Britta Lindvall, who wanted to create a transformative world of unique accommodation in the heart of their home village, Harads. Immersed in the middle of unspoiled nature, the collection of inspiring architecture neighbours miles of forest, the powerful Lule River and its magnificent valley. Harads is as quaint a Swedish village you can get with just one restaurant and shop, but a getaway to Treehotel is about escaping everything you're used to and embracing nature.