0203 816 0985
Let's talk. We're open Mon-Sun 9am - 6pm
We're open Mon-Sun 9am - 6pm
The Thief
3 nights for £575 PP 5 nights for £920 PP 7 nights for £1,265 PP *Price based on
2 people sharing
The Thief
Norway, Europe
3 nights for £575 PP 5 nights for £920 PP 7 nights for £1,265 PP *Price based on
2 people sharing
Let The Thief steal your heart as the arty and contemporary styling welcomes you in after a day roaming the streets of Norway's capital, Oslow. This is the place for the cool kids, where carefully selected designer furniture and quintessential Nordic cuisine add to the authenticity.
When it comes to the accommodation, you're spoiled for choice, especially if you see yourself as an art connoisseur. The Apparatjik Suite is a stimulating experience where the suite is filled with video art, music and disco textiles. If you need some liquid relief, the rooftop bar is perfect for views over the water on a summer's day.
Immerse yourself in unique art with statement pieces and modern styling
Choose from rooms and suites boasting beautiful vistas of the city
Direct access from your room to the spa offers rejuvenation with ease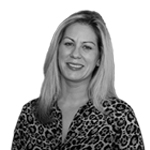 Get in touch with our team of travel experts to start planning your trip
Best for: Business, City, Couples, Family, Food & Wine
Style: Contemporary
DETAILS:
Best for: Business, City, Couples, Family, Food & Wine
Style: Contemporary
Currency: NOK
Board Basis: Bed & Breakfast, Room Only
Best Time To Travel
Average Temperatures
| | | | | | |
| --- | --- | --- | --- | --- | --- |
| Jan: -3°c | | Feb: -3°c | | Mar: 2°c | |
| Apr: 5°c | | May: 12°c | | Jun: 16°c | |
| Jul: 18°c | | Aug: 16°c | | Sep: 12°c | |
| Oct: 7°c | | Nov: 2°c | | Dec: -3°c | |
Our Expert View:
"Take advantage of the exclusive meet and greet service at Oslo airport where your luggage will be taken to the private car. On departure, the driver will hand you over to an airport representative who will walk you through fast track and to the airport lounge."

Louise Silverman, personal travel manager

Louise, Personal Travel Manager
Amenities:
Pool
Spa
Fitness Centre
Restaurants
Bars
Beauty Salon
Wi-Fi
Concierge Service
Business Services
Conference/Event Rooms
Rooftop Bar
Airport Transfers
ACCOMMODATION
When it comes to choosing a room type in this property, you can be sure that contemporary décor and stylish hues run through any choice you make. With nine different types of rooms and suites whether intimacy or ample space is priority, you'll find it here among a calm atmosphere in the middle of a vibrant city. Every option comes with a Nordic breakfast and all the mod cons you could need, alongside the highest comfort and most efficient layout of furniture.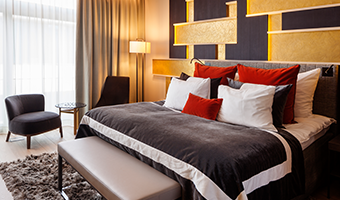 Standard Room
There's nothing standard about this room, from the private balcony where light floods in, to the sleek lines and mahogany wooden furniture. Floor to ceiling windows inject a little luxury into the contemporary setting, and the rain shower in the bathroom will be a welcome relief after a day exploring the city.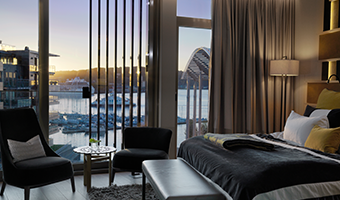 Premium Room
The stunning views of the Oslofjord are the real pull to the Premium Room, best enjoyed with a morning coffee from your Nespresso machine, on your private balcony. Walk into the enticing design of monochrome colours and atmospheric glowing lights and you'll be met with a king size bed, a seating area, work desk and a Geneva sound system.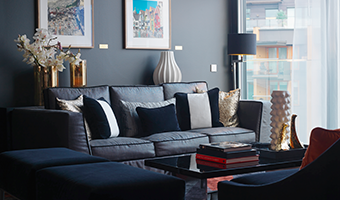 The Oslo Suite
The largest penthouse suite at The Thief, expect refined luxury and pure exclusivity in The Oslo Suite. Boasting a private rooftop terrace overlooking the Oslofjord, a fully equipped bar and pantry kitchen, this is more than just bedrooms and a dining room. Think your own eighth floor apartment, with the addition of original artworks by Sir Peter Blake and complimentary entrance to the spa.
Share with someone you'd love to travel with
DINING
Sweeping views and Norwegian delicacies are the signature of the dining options at The Thief. The modern architecture and contemporary art statement pieces run throughout the restaurants and rooftop bar, and the sleek settings also make the ideal environment for a business meeting over breakfast, lunch or dinner.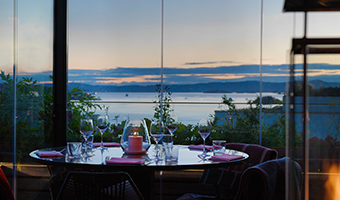 Thief Roof Grill
With unforgettable vistas of the water patchwork city, this unique penthouse grill offers a sizzling Josper grill preparing light summer salads, meats and seafoods to be enjoyed in the salty smell of the fresh air. Think spring chicken cured in porter beer, malt-marinated beef steak and tagliatelle alle Vongole.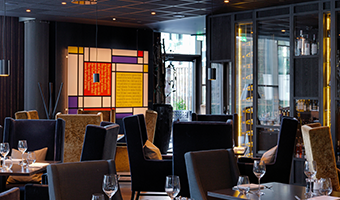 Thief Foodbar
Opening for the winter season, the Thief Foodbar is the heart and soul of the hotel, with a warm atmosphere and laidback attitude. Hearty dishes are combined with excellent quality from the new head chef, David Taylor, with experience from Michelin starred restaurants. With no set menu, small large and sweet plates will allow you to put together your own individual meal, and daily fresh catches and locally grown vegetables will have your taste buds dancing.
LEISURE
The old Norweigan proverb says, "There is no bad weather… only bad clothing," and the range of outdoor activities were made for enjoying the summer conditions. With the best instructors, you embark on guides and strolls over hill, river, fjord, and forest. Adventure through the beauty of the Norwegian coast and countryside incorporating activities like paddleboarding, cycling, fishing and group running, all available to be booked through the concierge.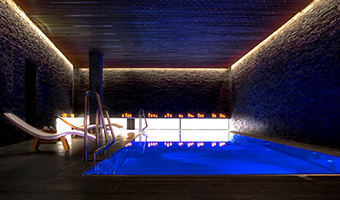 Steal a moment of peace
Ride the direct elevator from your room or suite down to the Thief Spa and experience Nordic wellness with international influences. From a Turkish haman bath and Moroccan clay wrap to a facial cleanse and classic back massage, take the relief off your wandering soles and indulge in some me time. The cove-like swimming pool transcends tranquillity while you can keep up to date with your exercise regime in the fitness centre.
Can't spot your favourite destination or hotel? Never fear – this is just a selection of what we can do!
Description
Once a haven for smugglers and thieves, Tjuvholmen, the islet upon which The Thief sits, is now a modern hideaway in the centre of downtown Oslo. It now makes sense why this art-filled property has its name. Cutting edge architecture is all around, and The Viking Ship Museum is just a 10-minute taxi ride, while a 15-minute walk will get you to the regal sights of the Royal Palace. For when the sun is shining, a refreshing dip at Tjuvholmen beach will cool you down or stroll across the footbridge off the islet to the bustling area of restaurants and bars.