0203 816 0985
Let's talk. We're open Mon-Sun 9am - 6pm
We're open Mon-Sun 9am - 6pm
Storfjord Hotel
3 nights for £540 PP 5 nights for £860 PP 7 nights for £1,185 PP *Price based on
2 people sharing
Storfjord Hotel
Norway, Europe
3 nights for £540 PP 5 nights for £860 PP 7 nights for £1,185 PP *Price based on
2 people sharing
Keen adventurers and seclusion seekers listen up – Storfjord Hotel invites you to enjoy your very own Scandinavian folk tale in this merge of traditional log cabin and boutique hotel. Time slows down here as you relish the warmth from the traditional yet exclusive décor, the perfect way to recuperate after soaking up the extraordinary landscape.
Settled in a tranquil hilly spot surrounded by UNESCO-listed scenery with views of the fjord right in front of you, this is the perfect base. Hiking, paddling, climbing, fishing, sailing – your itinerary will grow before your eyes once you start immersing yourself in the natural backdrop. Come summer or winter, this timber magic box will surprise you with irresistible views, the finest food and luxury treatment once opened.
Nestled in a hub of serenity surrounded by UNESCO-listed scenery
Traditional cuisine served in the guest-only restaurant
All rooms and suites emulate comfortable luxury, some featuring fireplaces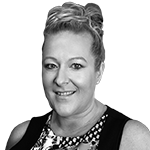 Get in touch with our team of travel experts to start planning your trip
Best for: Adventure, Christmas, Couples, Family, Sailing & Surfing, Sports
Style: Luxury Hideaway
DETAILS:
Best for: Adventure, Christmas, Couples, Family, Sailing & Surfing, Sports
Style: Luxury Hideaway
Currency: NOK
Board Basis: Bed & Breakfast, Room Only
Best Time To Travel
Average Temperatures
| | | | | | |
| --- | --- | --- | --- | --- | --- |
| Jan: -3°c | | Feb: -3°c | | Mar: 2°c | |
| Apr: 5°c | | May: 12°c | | Jun: 16°c | |
| Jul: 18°c | | Aug: 16°c | | Sep: 12°c | |
| Oct: 7°c | | Nov: 2°c | | Dec: -3°c | |
Our Expert View:
"Put aside some time for a relaxing stroll around Storfjord, where woodland walking trails thread in and out of dense forest. If you find yourself peckish when you arrive back at the hotel you can request a cookery class to learn the traditional methods of making regional fare."

Samantha Seals, head of sales and operations.

Samantha, Head of Sales & Operations
Amenities:
Restaurants
Concierge Service
Business Services
Shuttle Service
Excursions and Tours
Sports
Sauna
Free WiFi
ACCOMMODATION
Crafted from snug materials and wooden furnishings, minimalism and old school Norwegian flare are married in the décor of every room and suite. A colour palette of soothing greys, greens and browns reflect the beautiful nature surrounding the hotel, while classic antiques have been handpicked to complement the tartan motifs and four-poster beds. Every room from the Superior Room to the variety of suites offers a private balcony with views of either the majestic forest or breath-taking fjord.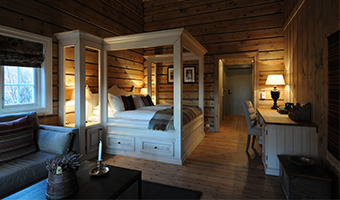 Superior Room
290ft2

Forest or fjord view
This feels like no ordinary entry level room, with a soft glow of light illuminating the chic cream furnishings and cosy threaded blankets thrown over the end of the bed. A comfortable seating area is the perfect place to make the most of the complimentary Nespresso machine and Wi-Fi.
290ft2

Forest or fjord view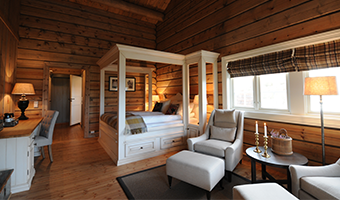 Junior Suite
387ft2

Forest or fjord view
Accommodating up to three people, the Junior Suite boasts calming hues and a minimal design, with patterned accents and golden candlesticks adoring the warm and inviting room. Lay on the four-poster bed and gaze up at the wooden beams above as you recuperate after a day's adventures.
387ft2

Forest or fjord view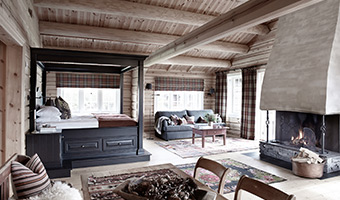 The Storfjord Suite
This is the pinnacle of Nordic luxury, with ample space and unique touches, sleeping up to five people in the two bedrooms. Warm up with your very own fireplace burning quietly opposite the four-poster bed then enjoy a candlelit dinner in your personal seating area, soft fur throws in tow. And of course, be sure to indulge in the bathroom with a free-standing bath and separate walk in rain shower.
Share with someone you'd love to travel with
DINING
Dinner at Storfjord Hotel is a chance to celebrate the best of regional produce and at The Kitchen a four-course affair awaits. Set to the background sounds of crackling fire and the lighting of candlelight, let the show commence while you enjoy views of the dreamy landscape outside. Partnering with the finest local producers, the menu includes legendary cheeseboards and locally brewed ale, Storfjordbrygg, exclusively served here.

LEISURE
Nothing comforts the soul and clears the mind after a day of exploring the nearby natural beauties like slipping into a warm robe and feeling the heat of steam soothe your skin. Let the sounds of the surrounding forest life take you away to a world of tranquillity as you enjoy the outdoor jacuzzi, then expel sore muscles in the sauna. Indoor and outdoor showers give you the option of some me time in the contemporary décor or refreshing while reconnecting with nature. Treatments can also be booked if you're longing for a longer and more personal spa experience.
Can't spot your favourite destination or hotel? Never fear – this is just a selection of what we can do!
Description
Norway is known for its plethora of dramatic fjords and towering mountains, and the location of this sanctuary is one of the most coveted places for adventurers. The famed waterfalls at Geirangerfjord and cloud-topped peaks of Hjorundfjord can be experienced VIP-style in a private helicopter or boat journey, while the port town of Alesund is just over 30-minutes' drive away. Here you can enjoy boat trips around the stunning archipelagos and fjords, as well as sampling some local cuisine.